Retail sales showed signs of recovery throughout June with e-commerce driving volumes, despite the easing of lockdown measures in the UK.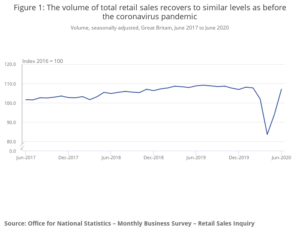 According to the Office for National Statistics (ONS) retail sales increased by 13.9% month-on-month in June, primarily driven by non-food stores re-opening.
Overall retail sales were just 0.6% below those in February it reported, with e-commerce volumes up 53.6% compared to February
However, food retail volumes were up 9.9% compared to February, with bars and restaurants still closed.
Non-food retail volumes in June were 15% lower than those in February, but an ease of lockdown measures saw a month-on-month increase of 45.5%.