A 618-acre regeneration project in Doncaster, South Yorkshire will provide up to 2 million sq ft of logistics and employment space.
Gerald Eve's planning team, led by partner and joint head of the Manchester office Harry Spawton, will advise on all aspects of planning for the employment part of the project known as Unity which will be undertaken as a joint venture between Hargreaves Land and Waystone.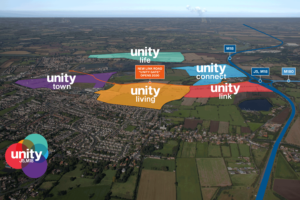 The mixed-use regeneration scheme, located at Junction 5 of the M18 at Hatfield, Doncaster, is set to comprise more than two million sq ft of employment space, 3,100 new homes, a new marina, school, transport hub and about 200 acres of open spaces.
A new 2.9km link road which is due to complete before the end of 2020, connecting the M18 to Waggons Way next to the former Hatfield Colliery.
Spawton said: "Unity is one of the region's most significant developments in recent years and we are proud to be working with the JV team to help bring it forward."
Unity is being supported by Doncaster Council and Sheffield City Region which are part funding the link road. Homes England is also supporting the extensive proposed housing programme
The post Up to 2 million sq ft of employment and logistics space to be built in Doncaster appeared first on Logistics Manager Magazine.